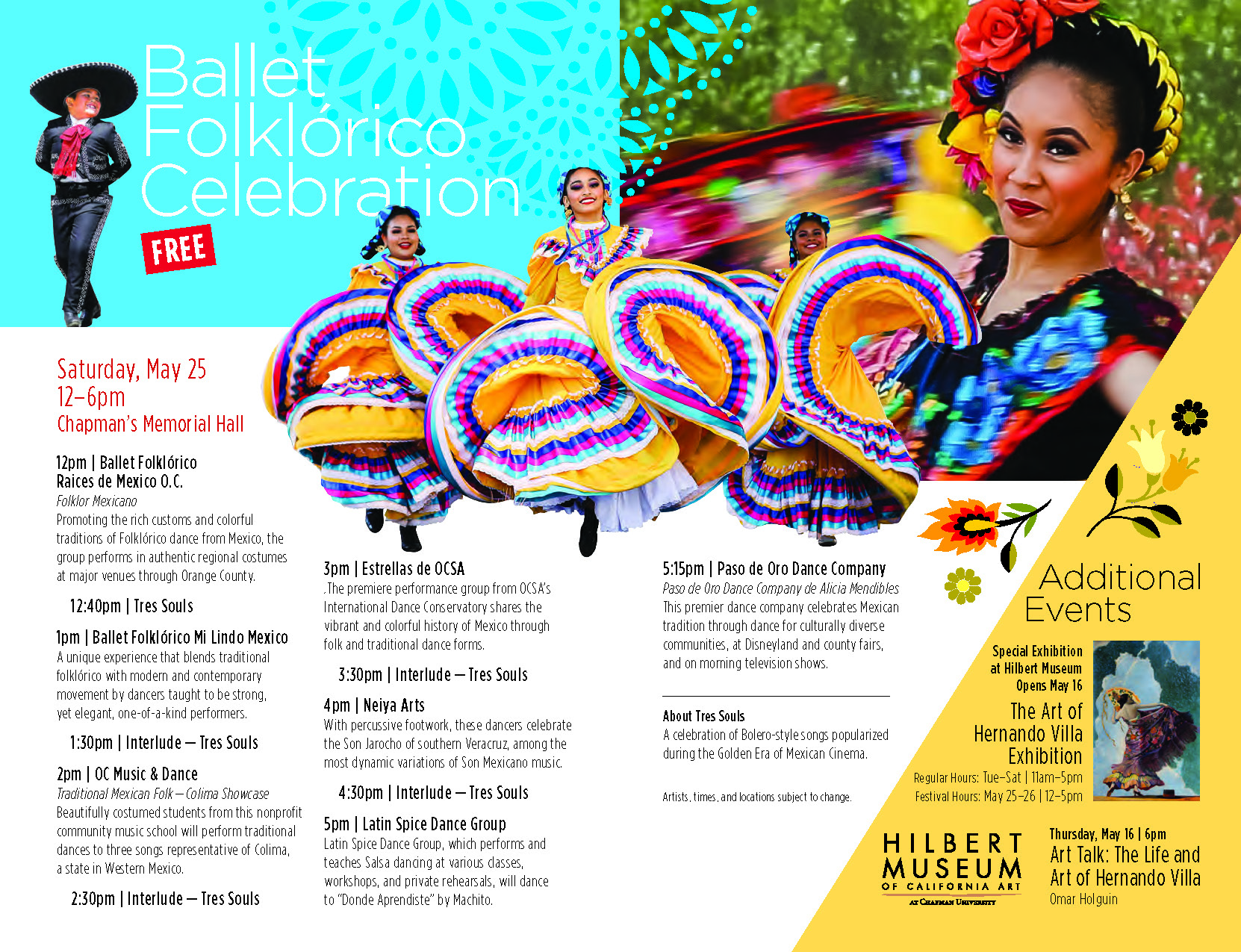 Musco Center for the Arts Presents Heartbeat of Mexico
Free Ballet Folklórico Celebration
Saturday, May 25, 2019 | 12-6pm
For the first time, Heartbeat of Mexico will feature an indoor performance at Chapman University's 1,000-seat Memorial Hall. This comes in response to overwhelming community interest in Ballet Folklórico groups in past years. Those events were held outside, however, and this year's performances will be inside and take advantage of theatrical lighting and sound to create an exceptional experience.

The performers, selected through a "self-nominated curation process," have been chosen to provide a balance between local and regional groups of all ages, as well as the traditions they represent in their songs, costumes, and dances.

Among the highlights of the Ballet Folklórico program will be Ballet Folklórico Estrellas de OSCA, the premier performance group from the International Dance Conservatory of the Orange County School of the Arts; Paso de Oro Dance Company de Alicia, the 24-year-old dance company directed by Alicia Mendibles and Alejandro Rey; and OC Music & Dance, a community music school that welcomes students regardless of ability to pay. OC Music & Dance will present a showcase of traditional folk dances to three songs representative of the music of the small Western Mexico state of Colima.
"A grand fiesta."

– OC Register
---
About Heartbeat of Mexico Festival
Discover the cultural depth and richness of traditional and contemporary Mexican and Mexican-American arts and entertainment with free and ticketed events throughout the weekend including immersive activities for kids and families. Heartbeat of Mexico honors Mexican culture, traditions and family, and encourages everyone, from all ethnic backgrounds, to share in the beauty of Mexico's rich history, music, and art.
A Musco Center World CAFE event presented in association with the Chapman Latinx Staff and Faculty Forum.
---
Parking
A no-charge parking pass is included for all Musco Center performances when you choose the print-at-home ticket option – it will be included in the e-ticket attachment emailed to you.
Box Office
The Musco Center Box Office is open Tuesday through Thursday from 12-6pm and one hour before shows.
Other Questions?
Call Musco Center for the Arts at 844-OC-MUSCO (844-626-8726) or email info@muscocenter.org.